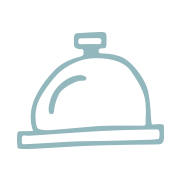 Catering
Festive,
welcoming and delicious

Catering
A party, reception or dinner is even better when everything is organised to perfection, and Top Catering does just that. Enjoy the tastiest dishes, served in style at every conceivable location.
The finest locations
At home, at the office, or in a tent? In the Amsterdamse Bos, or on a canal cruise? Everything is possible. Even if there's no water, electricity or other facilities, we make sure you and your guests enjoy a festive event.
Looking for a suitable location? We would be pleased to advise you.
Carefree enjoyment
You don't have to provide a kitchen, crockery, cutlery, furniture or kitchen equipment for us to make it a festive day. We organise everything ourselves. Whether it's a dinner for 10 or a spectacular party for 500, we can arrange it all.
Delicious food, served in style
At our Top Catering kitchen we work with only the best ingredients, freshly sourced every day and prepared by experienced chefs. Organic catering is possible, as are kosher dishes. And all for a price that will surprise you!
Company trips • Birthday parties • Weddings • Jubilees • Family dinners • Meetings • Lunches • Cruises • Inaugurations • Receptions • Cocktail parties • Housewarming • Customer days • Conferences